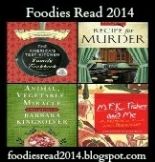 Foodies Read 2014 is hosted by Vicki at I'd Rather Be At The Beach.
If you are new to a food/reading challenge, you may be wondering – what is a "food book?" A food book is a book which is centered around food and/or drinks. That could be a cookbook, a food biography or memoir, a non-fiction book focused around a specific food, wine, chef or restaurant, or a fictional story in which food plays a major role.
Here's how the challenge works:
Decide how many food books you want to read in 2014.
Pick one of the reading levels below:
Short-Order Cook: 1 to 3 books
Pastry Chef: 4 to 8 books
Sous-Chef: 9 to 13 books
Chef de Cuisine: 14 to 18
Cordon-Bleu Chef: More than 19
For more info or to join, go to the Foodies Read 2014 blog.
In 2014, I shall become a Sous-Chef. I will track my progress on my Challenges page.